Getting there ...
English
Airports
Malaga - Málaga–Costa del Sol Airport - AGP - Pablo Picasso Airport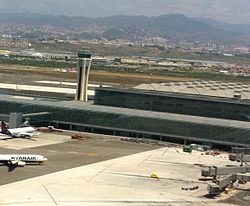 There are plenty of commercial websites offering advice and information around the airport that may or may not be up-to-date. You can find the official website from the Spanish airport operator Aena here and there you can look for departures and arrivals on this page.
Gibraltar - Gibraltar International Airport
Similar distance and for some reason you might get a special deal not available to Malaga, however Malaga is the airport for the Costa del Sol. The official website is here.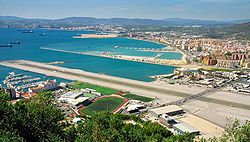 You can walk across the border as you are literally landing on the border strip and right across the only access road to Gib, that will be closed for your landing and take-off; a sight in itself. Other airports are hardly worth considering for distance unless you plan a round tour - Cadiz, Sevilla, Cordoba, Granada, Almeria. Once at the airports or the train station in Malaga you need to get to Marbella / Puerto Banus .....
By Road
More information about rental cars and buses are below. The address and map details are listed under each property. By car from Malaga or Gibraltar - take the motorway A7. There are stretches where the A7 becomes the AP7 and you pay for it. As you are on holidays you may save the relatively high charges for the short stretches, saving often not that much time, though, during the summer the APs have considerably less traffic. If you are happy to safe the charges just don't follow the signs "AP".
There is some discussion whether P stands for Auto Pista or Péage, in either case it means €. Where ever you drive, stick to the speed limits; same for car parking, if in doubt, don't park, don't speed, don't follow the locals. The fines are not worth it. Here are the Google Map routes to Marbella's Estacion de Autobuses (w/o toll roads) from the airports - Malaga or Gibraltar. And here are some more, popular departure points - Granada (Alhambra), Sevilla (Centre), Ronda (Centre). In fact these three cover the main routes to Marbella. From Marbella's Estacion de Autobuses you will easily make your way to any of the properties. The details are listed there.
By Rail to Malaga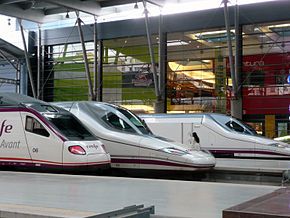 Should you arrive in Malaga by train you will be at the María Zambrano train station. The bus and coach station is right next door. From either station you can go by bus to Marbella or by train to the airport. The airport train continues to Fuengirola - https://www.thetrainline.com/en. You can take a bus from the airport or from Fuengirola. And there are always taxis and shuttle services available.
Arriving by Coach
You may traveling around Spain and arrive by Coach in Malaga. Marbella has it's own coach station and you could see if you get a direct connection to Marbella. Should you arrive in Malaga you will be next to the train station and have the options as mentioned above to go by train.
From Malaga Airport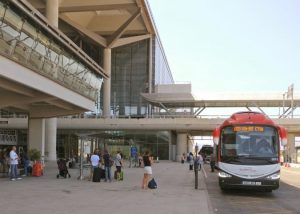 Airport Bus, outside arrivals Malaga airport, Aug. 2017
There are car rentals and you need to be aware of the special situation and conditions here. There are separate blog entries on the subject here and all over the internet. Just do a search on car rental in Spain and/or scroll through our blog. As always, rental companies keep inventing the wheel and change their options on offer, bottom line is - check what you want, what you need and what you get well before you arrive.
The bus service is the cheap way of getting to Marbella, Estacion de Autobuses (45 mins). From there you take a taxi. The official bus schedule changes throughout the year and the only fully reliable, up-to-date times should be here. For a while now it seems impossible to find a downloadable, official time table. You should find them at the bus stop at the airport and in the coach station in Marbella. They look like this one on the right.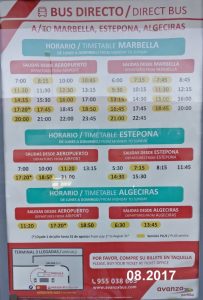 You could book a pick-up shuttle service. You can also check blablacar. That could be a convenient and economic solution. Any questions send us an email. Comments, experiences and suggestions are always welcome.